Oh my sweet, earth angels, hello and let's start with a big virtual hug! I think we all could use a little extra lovin' at the moment, so please feel this gentle touch from my heart to yours.
What I don't want to do is… restate the obvious about the upheaval that's happening in our world right now.
Or… tell you to just think positive thoughts to get through it.
Or… claim that if you invoke Archangel Michael, he will take away all your struggles.
No. Not any that.
Some of that is helpful, but it's not where my angels want me to focus.
This message is for those of you who feel a warrior/ess within. She (or he) may be buried, even deep, but her eyes are open/ing. She is understanding on a primal level that it's time to awaken. Fully awaken. To step forward.
Woman or man…I'm writing to you.
You may be a seasoned angel communicator who's been shy and/or scared to step into your power. Or you may be a newbie to conscious dialogue with your winged allies.
You may be terrified about what's happening. Or you may have a foundational sense of faith.
You may feel your calling as a professional healer or lightworker. Or you may be a keystone member of your family, holding everyone up.
You may be a combination of these things or lie somewhere in between.
YOU are the one I want to talk to.
The one who realizes that now is the time to embrace the Truth of who you are.
This past week during the 9th day of our 9 Days of the Self Worth & Surrender Tapping and Prayer Event, the theme of "being scared of dying without accomplishing what we came here to do" surfaced.
It's a biggie. Doing the healing required to live a life with no regrets.
I believe that we all came here with a specific purpose.
Living out that purpose is how we transition to the next plane of existence without wondering, "If only I had…".
Doing this karmic healing work… it's what we came here to do. I recently heard a person's astrological (or Human Design) chart referred to as "Life's lesson plan" and I love that! After all, healing means to resolve the wound of separation, to re-establish conscious connection between Self and Source.
Our angels' job is to help us with this journey – every step of the way.
My purpose (and I've only known this clearly for about 15 years now, thanks to awakening to my angels) is to support and guide earth angels on their journey to fully and completely doing what they came here to do.
Over the next few weeks, I will be announcing several offerings designed to help you be who you came here to be. To help you connect with your angels in this uncertain world.
I also believe that the only way to navigate this turbulence is to harness a true partnership with the angels…an ongoing, moment-to-moment dialogue.
I understand that money worries are prevalent with many earth angels right now, so my angels and I are working on creative ways to help you plug into your divine guidance.
Because that's what the angels do – align you with your destiny.
~~~~~~~~~~~~~~~~~
Message from the Philly Fairies 😉
Our daughter is living alone with her tuxedo cat, Tesla, in the Manayunk neighborhood of Philadelphia. She's been taking a walk twice/day to get fresh air and ground during this time of isolation.
She often visits this stairway near her apartment that we both feel is just so magical. I'm sharing this with you today, because this image brings a message of faith: It may be a steep climb, but we are supported on all sides, the path is clear and blue sky is in sight. 🙂
Manayunk Magical Stairway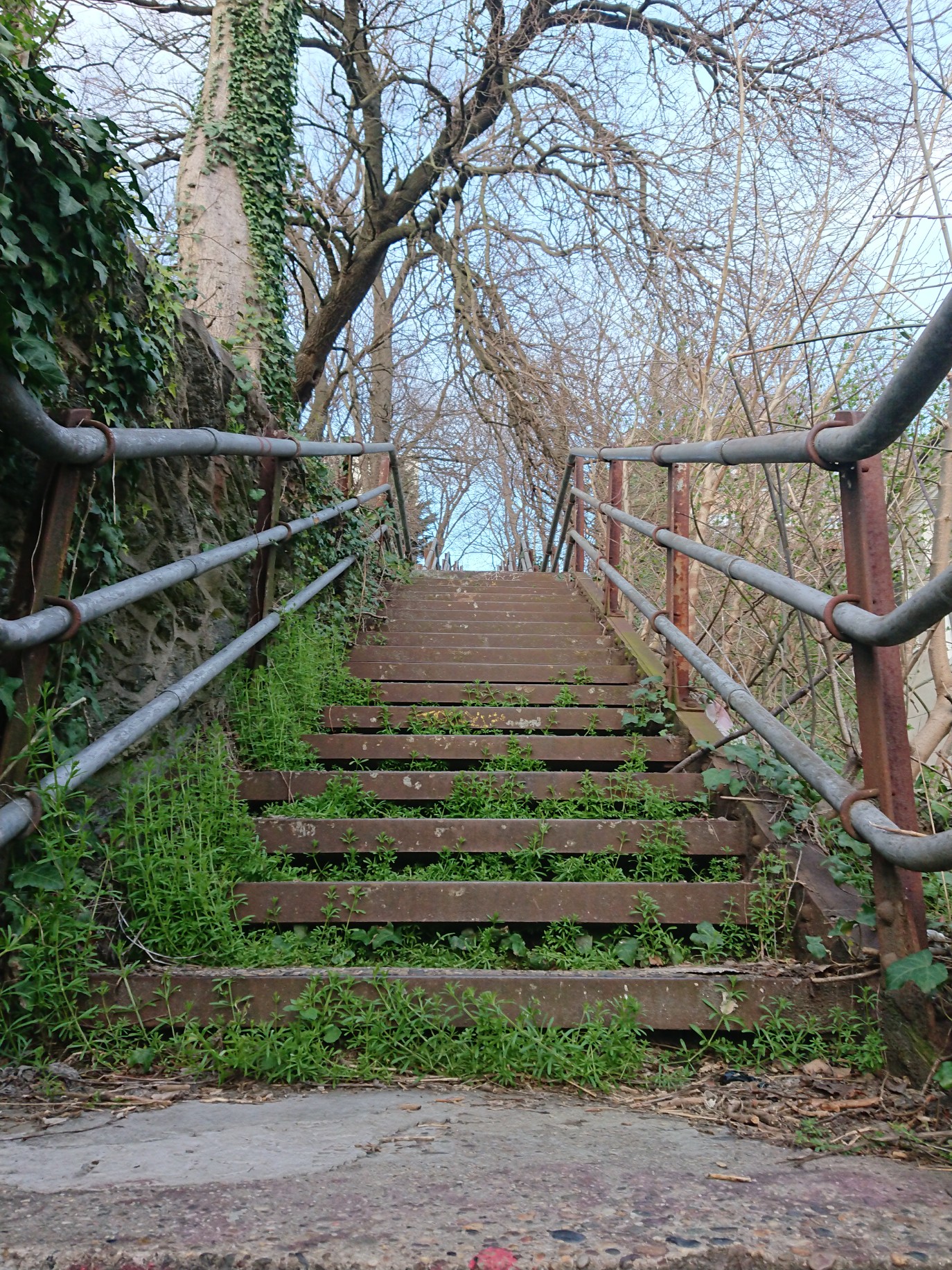 Be who you came here to be.
May you and yours be well.
Until next time…
xo Elvia