Hello sweet earth angel and Happy New Year!
I pray your angels are treating you well as we kick off a new cycle marked by the numerology of 3 with the tarot major arcana cards: The Empress and Hanged Man.
Truth be told, it's been a rather strange entry into 2019 and I've definitely already felt the Hanged Man energy of doing things differently and seeing with a new perspective.
And it's time to ditch the plans…
To view the video version of this message, click on the image below…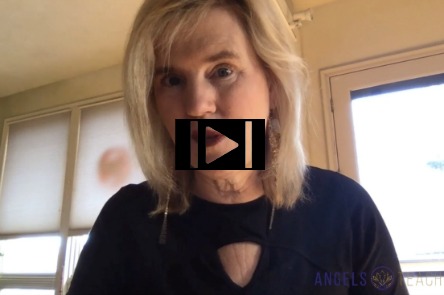 While part of me has wanted to go gung ho and dive into my to-do's for Q1, the angels hit me clearly and strongly with a "No, not now. This is a time for you to go deep into stillness and explore your inner landscape."
"Ugh", said my ego.
I even had an email all ready to send out to you last Saturday, but the angels guided me not to send it.
Thankfully, I trust my angels far more than I trust my ego, so I've listened.
When I transitioned from the corporate world to starting AngelsTeach many years ago, I was often asked by interviewers, "What's changed the most since you're now working consciously with your angels?"
I'd always laugh and reply, "I don't make plans!"
What I've learned are a few things.
First, my Human Design energy (generator like 70% of the population, so good chance this includes you) works best when I'm in full on response mode. Which means that my only job is to keep my vibrational setpoint high with a target of health, abundance, love and my greatest expression of service. Everything I need flows to me from that space.
Second, while having a general strategy/vision for the business is essential (yes, I do have some semblance of a plan), it's of utmost importance that I surrender and listen to my instructions from the angels. My job is to align with the vibration of AngelsTeach's voice – and then execute from there.
Third, God/Source knows way more than I do and has a perspective I'll never have. I just need to trust that and follow the guidance of my angels.
Ultimately, when I force things from an ego-mind, they usually fail. When I surrender into action from the Divine Mind, it flows and goodness manifests in miraculous ways.
So then, how can you create a best strategy for 2019?
Simple: feel/see/know the health, feel/see/know the wealth, feel/see/know the love in every cell of your being. Know that as you hold the vibrational setpoint of your highest expression of health, wealth and love…these things become your reality.
And it's your angels job to bring that to you. It's your job to believe.
So ditch the plans to lose 10lbs, get a new job or attract your soul mate this year.
Instead…
Feel/see/know you are in perfect health.
Feel/see/know you are doing work you love that pays you well.
Feel/see/know you receive all love you so deserve.
Do this every day. (Morning is best to align with the rising sun.)
Then, let your angels do the heavy lifting to bring this reality to you.
In the words of one of my favs…
It's not about action. It's about vibrational alignment.
~Abraham Hicks
Looking forward to a magical year with the angels. Thank YOU for being part of it!
All my love,
xo Elvia