My sweet earth angel,
We often joke that our daughter is from another planet…galaxy…universe. Actually, it's kind of a joke, because there's some truth in that statement. She is from another world, a beautiful, pure and enlightened world. She is an Indigo soul.
And she has taught me more than any other guru or spiritual teacher on this planet. There was a time when it was a huge challenge being her mother – dancing between giving her enough freedom and holding the structure and space that an involved parent needs to hold. But we made it through and now she thrives.
The lesson I have learned from her that I am guided to share today is this: #ImaginationKnowsNoLimits.
Imagination. Knows. No. Limits.
She has taught me this on many occasions and in many ways, always stretching me to see things from a new light, a fresh angle.
She has been in Australia for 7 weeks as part of an art residency before she starts her job in a pharmaceutical lab in NJ. She's in the bush and surrounded by trees and has been studying the connection between humans and trees through her artwork. I often check out her Instragram to see what she's up to and one recent evening, I found this…a painting she has been working on done with paints made from tree pigments and honey.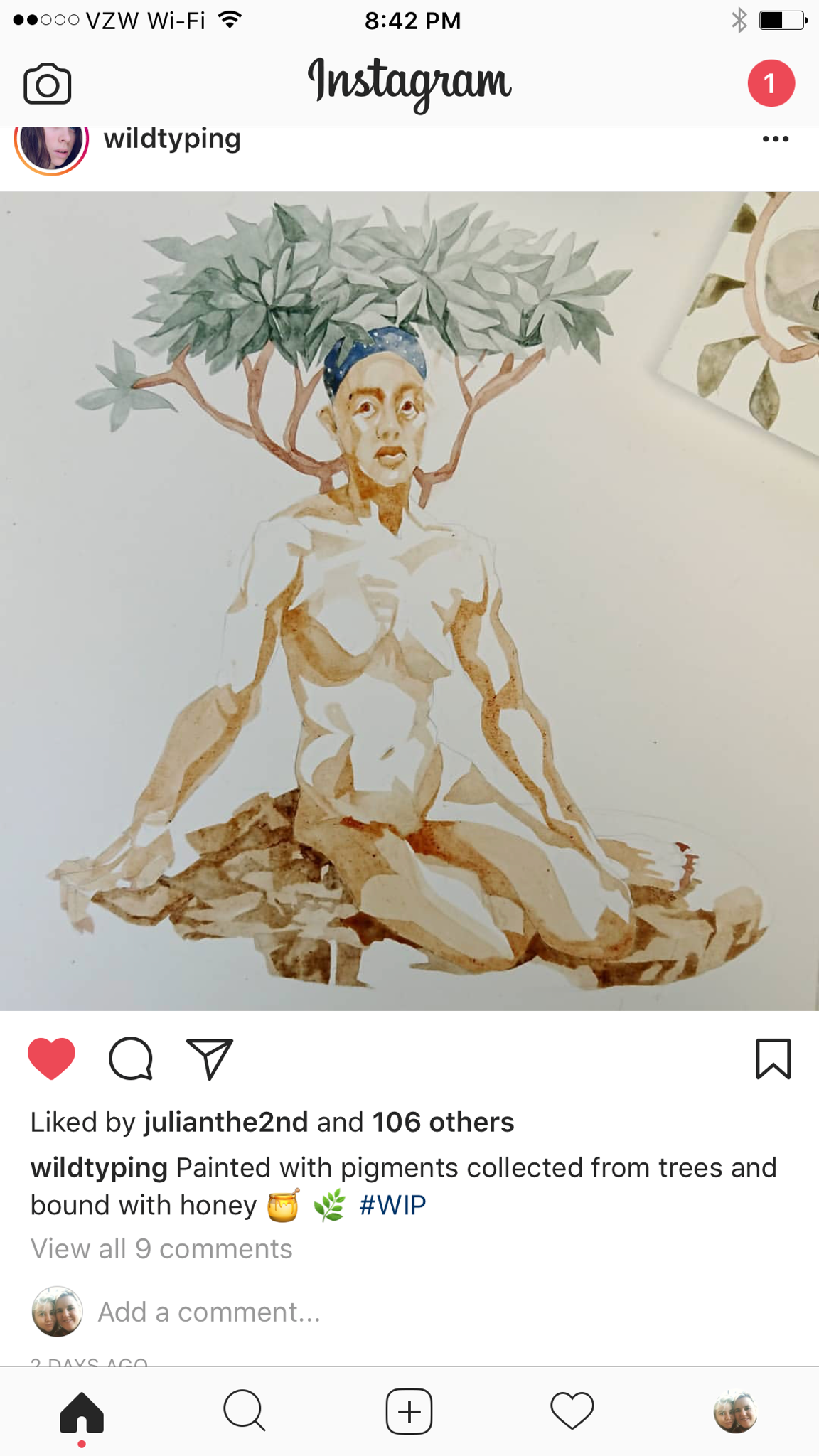 To be fair, I'm not sure if she created this idea of using tree pigments and honey to make the paint, but I know this painting is 100% her. And it blew my mind. Not only do I find it stunning, but it completely changed my mindset limitations around art mediums. I'm no pro, but I do know a bit about oil and acrylic…but tree pigment and honey? Bam!
How does my personal rambling get back to what's important here, dear earth angel… YOU!
We put so many contraints and limitations on what's possible. If you are reading this now, there is some area of your life that you are holding yourself back with limiting beliefs.
No judgment. Only love here…just truth.
We all do it. You're in the 99%.
And it's okay.
Go ahead and pick a card – either from the website or from your favorite card deck and see where you can gain insight into whatever it is that's pulling in the reins for you.
Because YOU are a master creator and anything your soul desires is destined to flow freely and easily.
Maybe your abilities don't feel limitless, but you sure are more powerful and capable of manifesting grace than you realize.
To this part of you…I say, "Stand up my dear earth angel! We need you!"
As you walk your highest, most aligned path, you heal, you experience joy…and the world heals.
Until next week…
Enjoy your day with the angels!