Equinox blessings, earth angels! Welcome to spring!
About 20+ years ago, I became more conscious and subsequently enchanted by celebrating the days when the light and darkness are equal…and when they are at their extremes on the solstices.
These earth cycles are such a powerful inspiration through their display of complete balance, like today's equinox, to going into the darkness at the winter solstice in December and being fully ON at the summer solstice in June.
This present moment on the wheel of the year, is a reminder that balance in our lives is essential. Without it, we lose joy, inspiration, good health, purpose and relationships suffer. In a nutshell, when we are out of balance, we are misaligned and off track.
I've had the blessing of what I like to call "white canvas time" this weekend. Peter has been away and I've visited with friends, but I've also had a wonderful amount of time to simply BE.
As I was contemplating my intentions for the spring season yesterday, I kept hearing "Allow the flow." Nothing else was coming in, so at first I thought that was my assigned mantra.
This morning I was guided to pick a 3 card sequential spread from my new favorite deck, The Great Eastern Oracle by Rassouli with the intention: What do I need to know for the next 3 months to serve the greater good and maintain my balance?
(I've also picked a card for you with this intention – see below.)
What I realized from my angels is that I've been holding on to this idea of what AngelsTeach is supposed to be in the future based on what she's been in the past.
Same classes, with updates.
Same types of events, with updates.
Same offerings, with updates.
And I'm not sure that's right any more.
People are in a different place than they were even 6 months ago. While the future is always an unknown, the idea of it feels less certain than it has in the past.
There's a much higher degree of grief and trauma that feels like a cloud hovering over humanity.
Simple "connect with your angels and stay in your joy" – while still true – feels like it misses the point of where many earth angels are at right now.
So I'm giving it all to God (always a good move) and unearthing any other expectations to release and make room for whatever is meant to arrive next.
What I DO know is that I'm 100% committed to serve in the best way I can and deliver Love however I may.
The cards I pulled SO lined up this message for me. #grateful 😉
And so I offer you today an equinox card pull + a blessing.
~~~~~~~~~~~~~~~~~~~~
Your Equinox Card Pick 😇
Intention: What is important to know for the next 3 months to serve the greater good and maintain balance?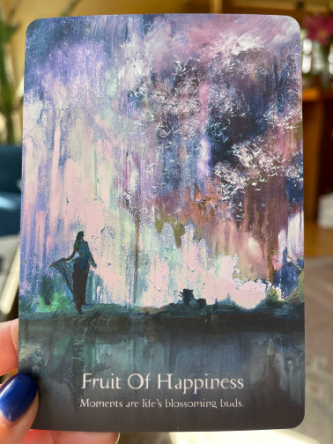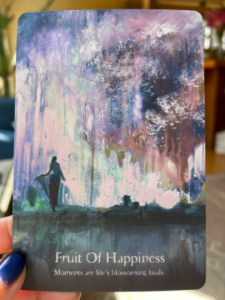 The Fruit of Happiness
The quote associated with this card:
"Lift the veil that obscures the heart
and there you will find what you are
looking for."
~ Kabir
What a perfect card to answer this intention!
The angels are suggesting you (all of us) really look at…
How can you get real about expectations you have for yourself?
What are you not seeing that's making you feel pressured
and even stressed?
How can you stop punishing yourself by letting go of what drags you down and isn't part of the divine plan?
Okay, that last question flew out of my fingers and while I really want to change it, the angels say, "Nope."
I think it's because we really are punishing ourselves when we aren't following guidance and make up reasons why it's not a priority…
Because we don't remember how to.
Because we don't give ourselves permission to.
Because we don't believe we deserve to.
Because…
The angels really DO want only happiness for you, for all of us.
This may feel like a stretch right now, but this message is a reminder that it's there AND it's worth fighting for.
Equinox Blessing
May you know balance in every breath.
May you know love in every moment.
May you know purpose with every word.
May you know peace with every thought.
May you know only Oneness with your angels.
Blessed Be.
All my love on this sacred day,
Elvia